Short Description
This page isn't really to give any specific details about my home made hi-fi system consisting of a power amplifier, pre-amplifier and media centre, it has been written to bring together the articles containing details about each component.
Note also that the pre/power amp combination and the media centre were built by myself, but the record player was not! I am considering placing the record player in a sturdy case with its preamp built in... however that will be something to happen in time, maybe!
A lot of people would wonder straight towards the cost of these projects. Well actually, I honestly don't know :) It is the work of trail and sometimes error electronics with upgrades lasting over 2 years. The cost of components, leads, PCB's and all sorts would be extremely difficult to calculate... but I would guess £500-£700 would be a fair guess.
This cost would be lower if anyone wanted to build the same configuration as me, simply because my guide details a fair amount of what is needed, and I reckon if I knew exactly what I needed to build and made no mistakes, I could of saved a fair bit of money. These projects are all about experimentation though - and that is the whole idea of home made electronics - I can fiddle, and get a hi-fi system that is exactly what I want!
The sources
Every hi-fi system must have some sources. Currently, I have several.
The Media Centre - a home made media centre that can play MP3's, OGG's and CD's - built around a Via Mini ITX PC motherboard.
A DAB radio
A Desktop PC, used for DVDs and Video Games - this is my 4 channel source (and will eventually become a 5.1 channel source)
A record player, for playing the ever increasing vinyl collection!
An auxilarily connection, for portable devices like MP3, Minidisk etc...
The most interesting of these is my home made media centre. Ok, ok, so it would hardly be called audiophile because it is a PC - but I actually found out the sound from that motherboard is better than both my desktop PC and laptop, and it performs well enough for my needs. There are future plans to connect a high quality USB sound card to this too, which might make some difference. As I write this though - the media centre software is still very much in production. The final configuration will hopefully be a linux system which will boot fast and not need a shut down routine (read only file system).
More details about the media centre are in slow constuction, but don't exist. Keep an eye out for them in several months time...
Pre-Amplifier
This pre-amplifier has been in plans since the beginning, which is when I started the power amplifier. Production of the pre-amplifier started much later, in my third year of university. This was because part of this pre-amplifier would form my final year dissertation, which was a first class awarded project with over 20,000 words of details and 100+ pages.
That was all about the computer science part of the pre-amplifier project, which was details about the design and implementation of both code running on the two embedded microchips in the preamp and the code running on a desktop PC so you can change the preamp volume, inputs and other settings from your PC desktop - pretty neat!
Since audiophiles usually like a very mininalistic analogue design, the digital section only interfaces with the analog at some PGA2310 volume control chips. These are Texas Instruments Burr Brown and are of very high quality. Everything else, such as input selection is done through relays.
It is a very nice and high quality project, and to view more details, go here. These details are still being written at the moment, but I should be able to finish soon.
Power Amplifier
The final link in the system before the speakers is my power amplifier. This is (or will be soon) a 5 channel power amplifier. Currently it is only a stereo amplifier, but with a few special features!
The front stereo speakers are driven by four amplifiers, not two. They are not bridged, but they work together by operating at different frequencies. It is a bi-amplifying method, where one amplifier drives the mid/bass into the woofer of a two-way system, and the other amplifier drives the treble into a tweeter of the same speaker. It is like bi-wiring in some sense, only much better. See the contruction article for more details.
Soon there will be a stereo amplifier added for the rear speakers, and the heatsink and power supply is already in and ready for it, I just need to construct the amplifier.
Another feature this includes is a microchip control system. This mutes the speaker on power up, meaning no power on thumps and clicks can be heard, and it also monitors the temperature of the heatsinks and turns on some fans when the temperature gets a little high.
More details can be seen here
Subwoofer
To extend the low end of the system and to continue to provide massive bass when my system and/or listening room expands, a large subwoofer was built.
It also has the same wood effect as the separates, to match my desk and future living room!
Creating the low frequencies are two 10 inch 100W speakers, driven each by a 60W amplifier, which equates to 120W of power and it can outrun my main system.
Most subwoofers don't have flat response though, because of the case design and, more often so, the room. I designed my subwoofer with an 8-band graphic equaliser, allow boost and cut of frequencies from 20Hz to 100Hz. Its certainly a useful addition indeed.
There is also a PIC microchip control inside, allowing pop free power on/off from a simple push button and the preamp itself. More details of my subwoofer can be found here
Photos
Finally, here are a few photos of the systems, after recently been rufurbished into a beutiful wood effect and now labelled.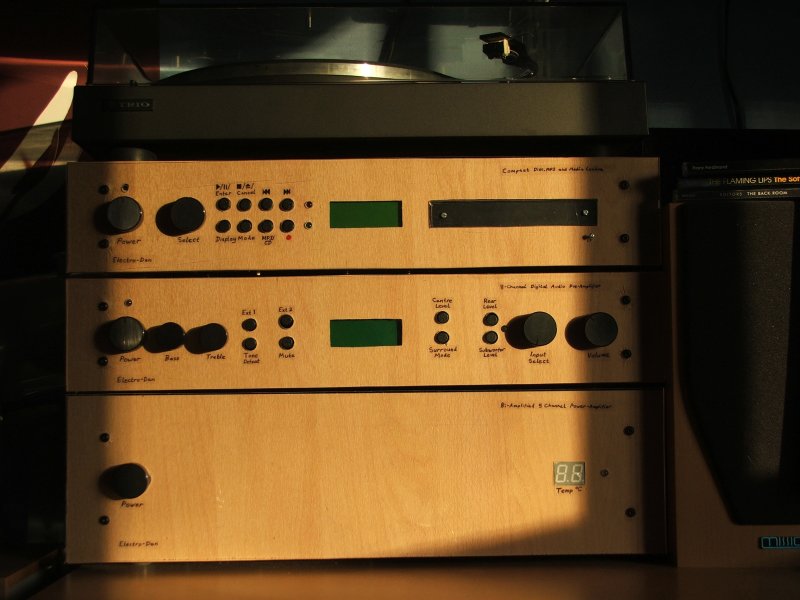 Here is an overall shot of the hi-fi, as it sits currently on my large computer desk. The record player sits on top (just about!) and the main components from top to bottom are the media centre, pre-amplifier and power amplifier. On the right you can also see the left speaker (Mission M71i) and a small selection of CDs!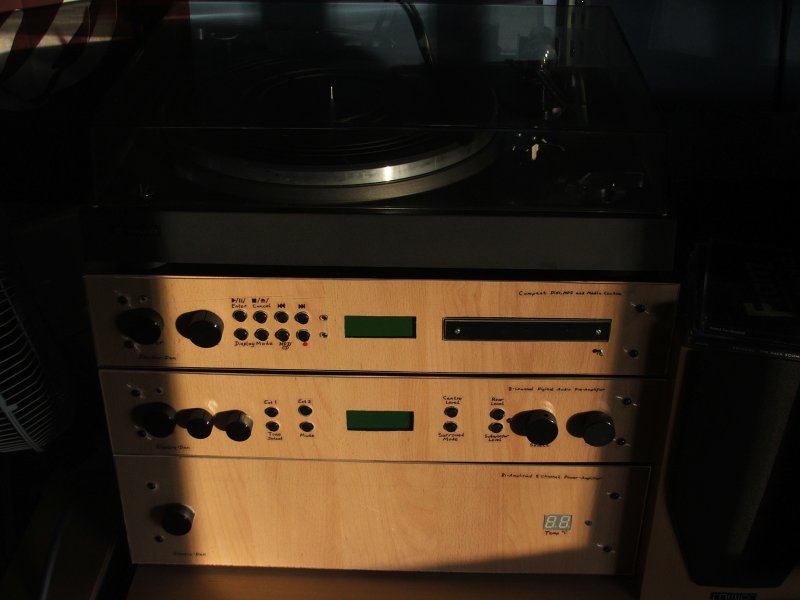 In this shot, you can see the record player more clearly, and in the bottom left is the top of my DAB radio, which is also hocked up.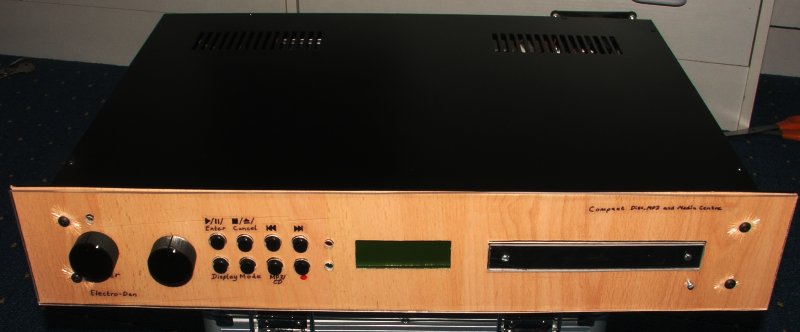 Media Centre - Front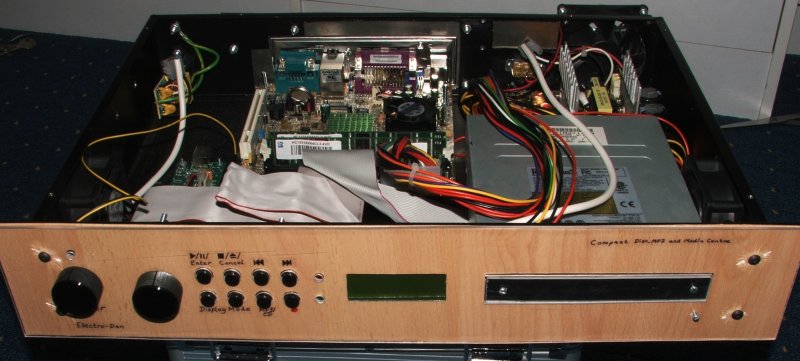 Media Centre - Front with open top
This picture shows the ITX motherboard and the gutted ATX power supply. You can also spot that there is a real computer CD-ROM drive in there which is cunningly hidden by the front panel I made.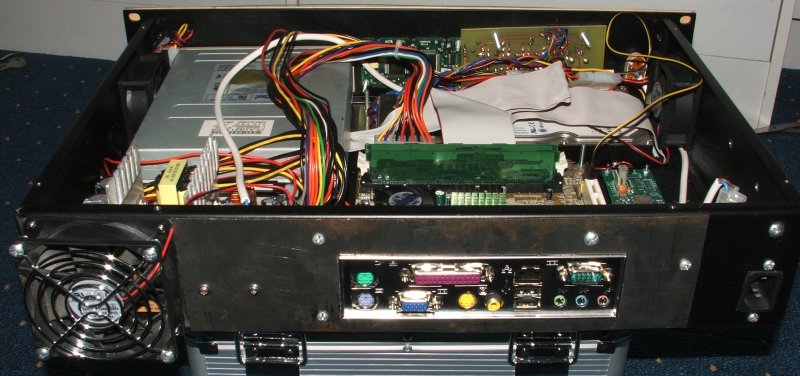 Media Centre - Back with open top
In this photo you can see the rear IO connections of the ITX motherboard, and at the front the rear of the LCD module and the board I made for the push buttons and encoder. You can also see the hard drive a bit easier.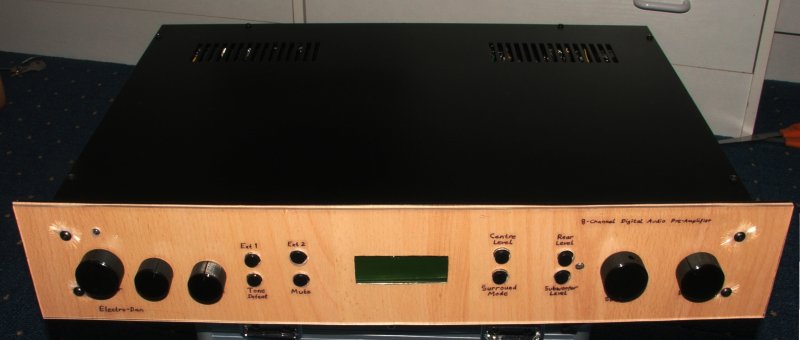 Pre-Amp - Front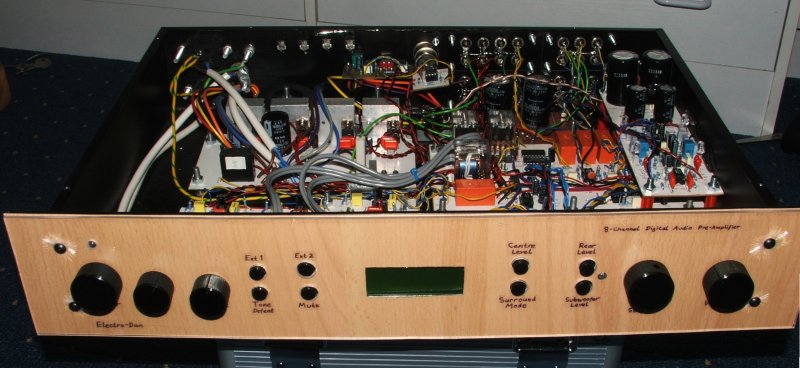 Pre-Amp - Front with open top
Yes, it is pretty complex for just a pre-amp, but that is what happens when you add another 6 channels, digital control, muting and a phono preamp!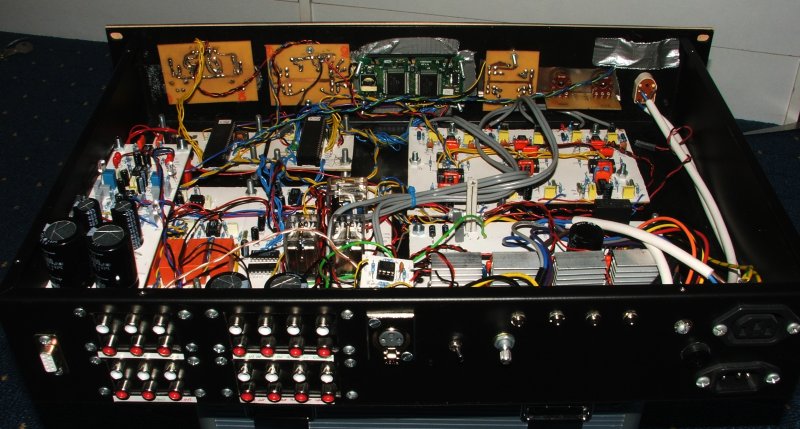 Pre-Amp - Back with open back
From here you can see the 9-pin serial connection, all the inputs and outputs, subwoofer XLR output, phase and volume, and mains in/out.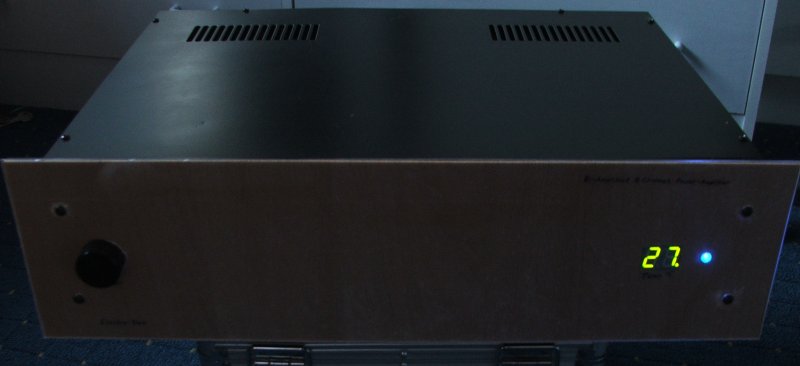 Power Amplfier - Front
This photo was taken in low light without a flash so you can actually see the LED temperature display reading 27 degrees C, and the blue power light.

Power Amplfier - Front with open top
This photo was taken with the flash for greater detail, and you can see part of the inside. From this angle, you can see the heatsink on the back does not yet contain the rear amplifier, and only the voltage regulators.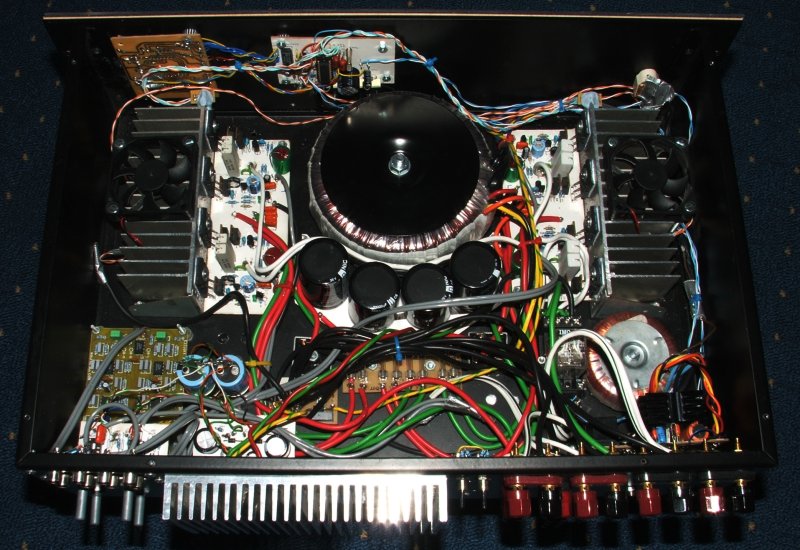 Power Amplfier - Back with open top
There is a lot of detail here, so I won't describe it all! You can see the large round transformer at the front. Top left are the microchip control inputs and outputs. The two heatsinks on the left and right have two amplifiers connected to each one (and are fan cooled) and the crossover to spilt the mid/bass from the treble is in the bottom left corner.
Content date Jan 2006