More TDA7052 Amplifier Developments
Ultra-portable amplifier and speaker
This system uses on TDA7052 amplifier and one simple Mylar speaker. The aim for this system was to be small and I did not include batteries, It does however run from any battery supply down to 3V. Again, this system is based on the experience I have had with the ever so simple TDA7052 amplifier, more notes are here. The performance is quite impressive considering the size I have made the amp, the dimensions in mm are 83 x 53 x 31.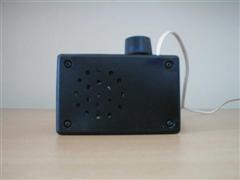 Above is the picture of the system from the top, at the top, there are only holes cut for the sound of the Mylar speaker to escape from (19 in total) and the screws that hold he lid to the rest of the box.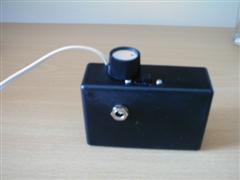 This picture is a view from the back. You can see the controls on the top (volume and power) and power input on the back (standard 2.1mm power socket). That is all the controls this little amp needs, you can also see the white wire coming out from the box, that ends in a 3.5mm jack plug which is ideal for most sources.
For the power, I built a small battery box which accommodates 3 AA size batteries, these give the 4.5V that the amp ideally needs to be powered from, more voltage means more batteries, and portability becomes an issue then.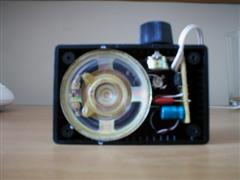 This is a view of the amp with the top cover off the box. It is easy to see that most of the room is occupied by the speaker, and that the amplifier PCB is very small indeed. Only 4 components are on the PCB, the volume control, the TDA7052 chip and two capacitors - and that's all that is needed :-)
For something so small, the sound is not bad, although as anyone would expect, there is a limited response across the audio spectrum, but the sound is quite near to the quality of your average clock radio which uses a speaker of a similar or larger size.
Content date Jan 2006